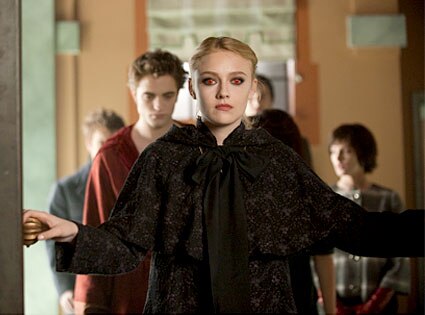 Dakota Fanning
loves being evil! The New Moon wolf pack tattoos might turn into the real thing for some of the actors! And the leader of the Volturi wishes he had a very...unusual...supernatural ability.
If you haven't already, check out full pieces on
that romantic devil, RPattz
, and his
tabloid (at least) sweetheart, KStew
. And then move on to a roundup of all the stuff you should know about today's day-long press conference promoting New Moon.
So just what does Michael Sheen wish he could do? Well…
When asked what supernatural power he'd like to have, he replied, "I would like to have the power to always look like I'm three centimeters to the right of where I am. I do have that power.
Dakota Fanning loved being an evil tiny vampire of the Volturi clan in New Moon. "The highlight of playing Jane was getting that costume, and the red contact lenses. I was really exciting about that, and getting to play an evil character."
She's also obsessed with baby names, "with what people name their children," she explained. "Just, like, friends, anybody. I know a lot of people's baby names, I have been planning the names of my children since I was four."
The four actors who play members of the Wolf Pack are mulling getting real Wolf Pack tattoos after the final film in the Twilight saga wraps. But Taylor Lautner? "I don't know," he said. "I will have to think about that; I will have to discuss it with my pack."
The Wolf Pack also revealed Lautner's stealth talent: "He took us bowling" during filming in Canada, one wolf said. "He's an amazing bowler."
As for Pattz, he boxes in his time off, Lautner revealed today.
Fame brings out the crazy in strange people. Here's a story that Kristen Stewart shared about her recent promotional trip to South America. Pattz was in Japan at the time. "This guy was chasing after us ... this one fellow was like, 'Where is Hobart? Where is Hobart?' And he was distraught and irrational, and I was like, 'It's Robert!'"
It was so cold during the outdoor scenes that the cast of the ever-shirtless Wolf Pack came up with some pretty interesting running gags. "That we should have a cutting glass business," one wolf pack member revealed. "Our nipples were rock hard."
TMI? Of course not! This is the Twilight saga we're talking about.